Altostratus, Premier Partner of Google Cloud in Spain

Since 2019, Altostratus is a Google Cloud Premier Partner in Spain, the highest level of certification in Google Cloud Platform
Google Cloud Services for Business Consulting
Our high technical training and our solid experience endorsed by the industry and our clients has positioned us as a Premier Partner of Google Cloud.
We integrate Google Cloud technology into our clients' IT environment to improve their efficiency and competitiveness.
We accompany you with our professional services of consulting, change management, custom development and in-house training for the Large Company and the Digital Native.
Since July 2021 Altostratus is part of Telefónica Tech, multiplying the commercial offer and global engineering capabilities under the umbrella of the telephone group.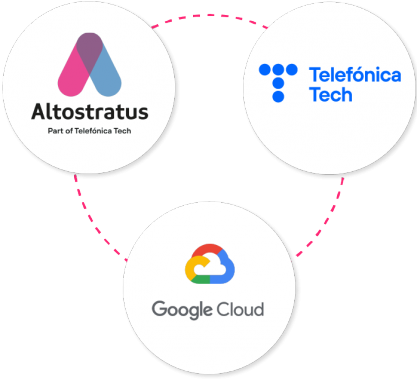 Experts in Work Transformation, Infrastructure & Application Development
Altostratus has obtained the distinctions as a specialized Partner in Work Transformation – Enterprise, Infrastructure and Development of Google Cloud Applications.
These certifications accredit Altostratus' technical competence in the development of large-scale digital transformation projects, the provision of professional services in the area of Cloud Infrastructure and the creation and management of applications, using the best of Google Cloud technology. . Infrastructure Optimization
Cloud training for companies
Modernization and application development
We believe in a way of working agile and collaborative, and in the use of technology at the service of the business.
We exploit the enormous potential of Artificial Intelligence and technology to optimize the key processes of the company, always under the objective of continue creating value.
We bet on open source and in-house training to empower the client to continue developing new custom solutions in the future.
Google Cloud, a technology provider at the height
FASTER INNOVATION
Go from code to production in record time using next-generation Google Cloud Platform containers and microservices
RELEVANT REAL-TIME DATA
Valuable information that will allow you to make smarter business decisions</ b> with data analytics and AI solutions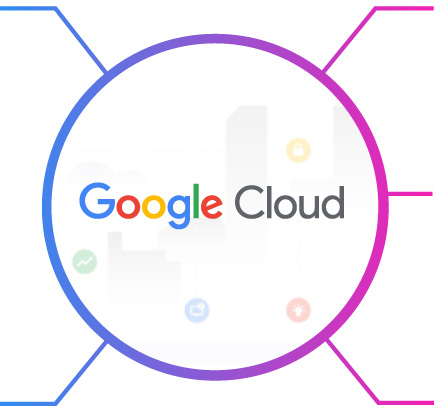 COST SAVINGS
Significant savings as you maximize your cloud capabilities, thereby reducing TCO (total cost of ownership).
COLLABORATIVE WORK FROM ANYWHERE
I work in real time and in the same space with Google Workspace (Gmail, Drive, Google Meet) always supported by Google Cloud.
MAXIMUM EFFICIENCY
99.99% availability, risk reduction and increased operational efficiency.